Post by Hollywood Nosebleed on Apr 13, 2017 21:30:28 GMT -5
I figured I'd throw my hat into the ring. I doubt this would happen, but I would love it if it did.
Trades:
Jets trade #6, #39, and Richardson to the Browns for #12, #33, #52, and #145.
I figured #6 is worth #12, #52, and #145. Richardson will probably only get a 4th which gets us from #39 to #33, and the Browns can afford him, need help on the DL and have picks to burn.
Jets trade #33 and #107 to the Cowboys for #28
1-12) Dalvin Cook, RB, FSU.
The Jets miss out on Fournette and Adams. On the field Cook is everything you want in a back. He's a gamer and a threat to take it to the house every time he touches the ball. Ideally, I'd love to fall back a few more picks to draft him, but you need two to tango.
1-28) Evan Engram, TE, Ole Miss.
The Jets use the extra picks to leap frog the Packers and steal Evan Engram from them. He's a match up nightmare who will be a young QB's best friend.
2-52) Tyus Bowser, LB, Houston.
Superb athlete that's still learning the position. Despite missing 5 games last year he finished with 8.5 sacks and 12 tackles for a loss. He's explosive off the edge, dips his shoulders well, and is great at stunting. He's also comfortable dropping back into space. However, he lacks pass rushing moves and can over pursue. Give him a good coach and by year two he'll be a beast. He can play SAM LB, OLB, and DE in obvious passing downs.
3-70) Ahkello Witherspoon, CB, Colorado.
Elite size and one of the best cover corners in the draft. He also has great ball skills. Teams only completed 26.5% of their passes against him last year. His only real knock is that he's soft in the run game, but he's a CB so it's not the end of the world.
5-145) Corey Levin, OG, Chattanooga.
He's probably one of the best if not the best pulling OG in the draft. He also has great footwork and hands. Sometimes he drops his head so his hand placement is inconsistent, but I think he'll be a steal in the later rounds.
5-150) David Jones, S, Richmond.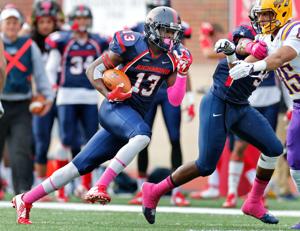 He has great size at 6'1 205, and is one of the better cover Ss in the draft, willing tackler, and can handle returns. Had it not been for injuries he would go a lot higher.
6-191) Pita Taumoepenu, DE, Utah.
Utah mostly played him at DE with his hand in the dirt. Despite only starting 4 games in the regular season, and being undersized at 6'1 243 he still managed to put up 36 tackles and 7 sacks. He's an elite athlete with a ridiculous motor and pursues the ball very well. Even though he's undersized he held the point of attack well and put consistent pressure on the QB. At the next level he projects to be an OLB in the 3-4 or SAM LB in 4-3. He has the athleticism, and drive to make it as an LB. Also the few times Utah dropped him back into coverage he showed decent hips. He's also a solid kid with great character. At the very least he'd be a good backup and special teams players.
7-224) Adrian Colbert, CB, Miami.
He's a former S transfer from Texas. He's got great size at 6'2 205, and runs in the 4.3s (Pro day was 4.25). For someone who switched to CB from S he showed great coverage skills. He's also not afraid to come up and lay the wood. Injuries are a big concern with him.