8/27/1990
Jets end two contract disputes.

The Jets would re-sign holdout Center Jim Sweeney to a 4 year $3.1MM contract. The contract included $300K in incentives – the $3.4 million total, if earned, would have made Sweeney the highest paid Center in the NFL at the time. In their history, 5 men have been the primary starter at Center for the Jets in 47 of the last 51 seasons: John Schmitt, Joe Fields, Jim Sweeney, Kevin Mawae and Nick Mangold. Wayne Mulligan was the Jets starting Center for the 1974 season (between Schmitt and Fields), Cal Dixon started in the 1995 season and Roger Duffy in 96 & 97 to bridge the gap between Sweeney and Mawae. Sweeney was a 2nd round pick out of Pitt in 1984. Sweeney would play all 3 positions on the O Line for the Jets: he started at LG in the 1985 season and slid over to LT for the 86 & 87 seasons. He became the starting Center in 1988 after Joe Fields left for the Giants. He would start every game at C for the Jets from 1988 – 94, before moving to Seattle for one season and then finishing up his career in his hometown of Pittsburgh.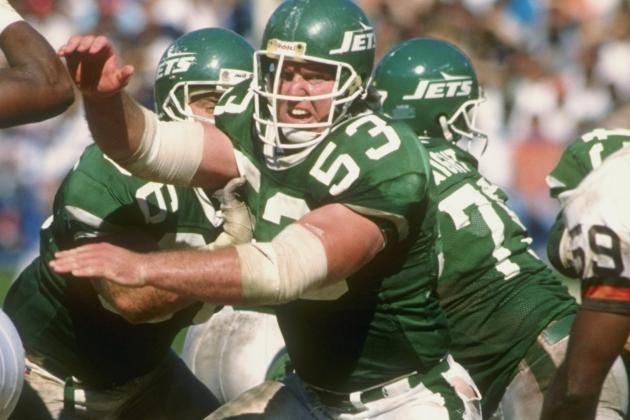 The Jets would also resolve a contract standoff with rookie 2nd round pick out of WV, Reggie Rembert. The Jets selected Rembert with the 2nd pick in Round 2, but could not agree to terms on a contract. Rembert and his agent were holding out for 1st round money, which the Jets were unwilling to pay, especially after they drafted Rob Moore out of Syracuse using a 1st round pick in the supplemental draft. Instead they traded Rembert to the Bengals for LB Joe Kelly and OL Scott Jones. Kelly would play 3 season with the Jets, Jones would only play 3 games for them. Rembert did not do much better in Cincy, as he only caught 36 passes in a 3-year NFL career – definitely not production worthy of 1st round money.

And for today's Jets kick in the nuts, you wonder what might have happened had the Jets contract negotiations with Rembert been more favorable. Would they have still selected Rob Moore in the supplemental draft if they were able to sign their 2nd round pick. Had they not taken Moore, they would have had their 1st round pick available in the following season when Brett Favre was still on the board. Instead, Favre went one pick ahead of us in teh 2nd round to Atlanta. Ouch. Another day. Another kick in the nuts courtesy of your Hampur Historian.